Local link building can help you boost the online visibility of your business, ultimately resulting in more foot-traffic.
In this post, I'll take you through the actual steps of building local backlinks, as well as, why they are significant to your SEO success.
Let's dive right in.
The Central Role of Link Building in SEO [A Quick Overview for Beginners]
Search engine optimization, in a nutshell, is the science of understanding how search engines, such as Google, rank websites on their search engine result pages (SERPs) whenever a user types in a relevant query.
The end-goal is to climb up in the search rankings by "optimizing" your website, keeping the best-practices in mind.
Since search engines never disclose how their complex algorithms work, SEOs have to experiment and test their theories.
Over the years, we have been able to identify several confirmed "ranking factors" that come into play, such as the quality and relevance of content, speed, and the level of security of your website, to name a few.
However, there's one thing that trumps all other factors and is the cornerstone of any successful SEO strategy – backlinks (also known as "inbound links").
What are Backlinks and Why Do They Matter?
Backlinks refer to the inbound links you receive from other websites.
While analyzing web pages, search engines view these backlinks as "votes of confidence." As a reward, they pass something that's known as "link equity" (or link juice) through these backlinks, which increases your chances of showing higher up in the SERPs for relevant keywords, as illustrated: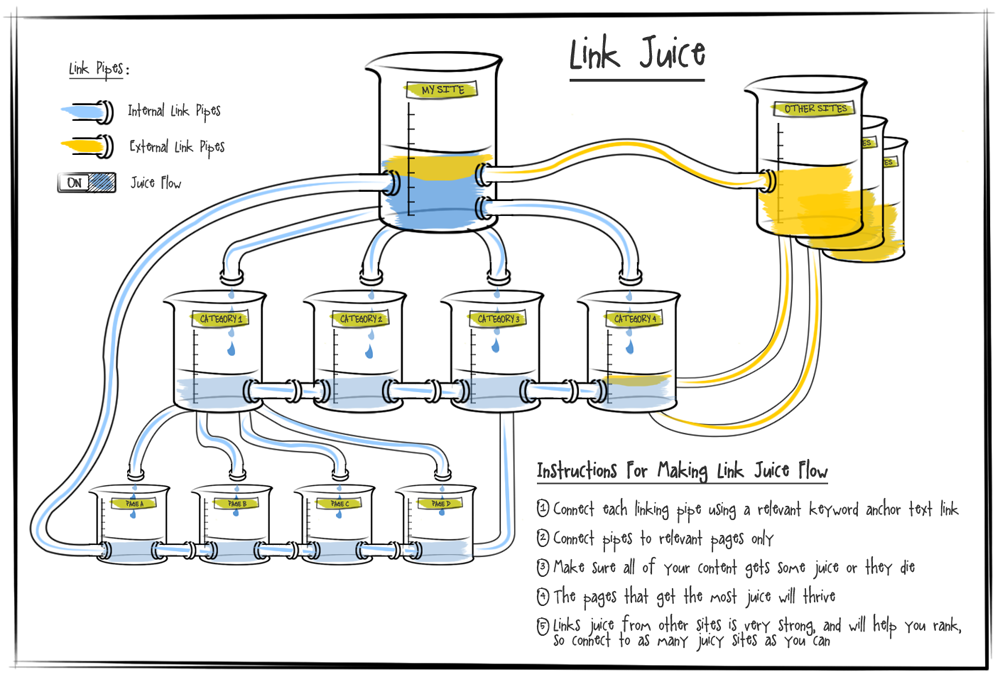 via Webmarkets
The more links you get, the more link juice you'll receive, resulting in improved performance on search engines.
Backlink Profile 101
Effective link building is all about getting high-quality links – not how many links you can get.
That's because Google and other search engines won't simply look at how many links you have when analyzing and ranking your website. Instead, they look at something known as the "backlink profile" – an overall assessment that considers the sources of your backlinks (their quality and reputation), as well as the quantity.
The goal is building links from as many top-performing websites relevant to your industry (such as news sites or popular blogs) as possible.
Local SEO and Local Links – Explained
As the name suggests, "local SEO" refers to everything that you just read about SEO, but with the purpose of attracting local users/users within your local area.
The purpose is to attract qualified users or buyers (i.e. prospects who are ready to do business) to your website, to your physical store, or both.
Similarly, "local links" are the backlinks that you acquire from local directories/online business listings, publishers, and websites of other local businesses/NGOs.
However, local link building requires a different set of tactics.
Let's take a deeper look at the most promising ones.
Citation Building: The Most Essential Local Link Building Tactic
The first step in local link building is to go all-in on online citations.
"Citation building" refers to listing your business in different online business directories.
While building a citation, Google highly recommends providing the name, address, and phone number of your business (also known as "NAP").
In local SEO, it's crucial that your "NAP" is the same across all directories/websites.
Here are the two major types of platforms where you can build citations:
1. Major Platforms
This refers to major listings that aren't limited to any specific business category.
The most prominent example is Google My Business – an online platform that lets you create an online presence for your business, allowing you to engage with your customers and your prospects to discover your business.
It also sets you up to appear in the "local pack" – a section of the first SERP that pops up at the top whenever a user types in a local search query. For instance, here's the current local pack for the keyword "law firms in North Carolina":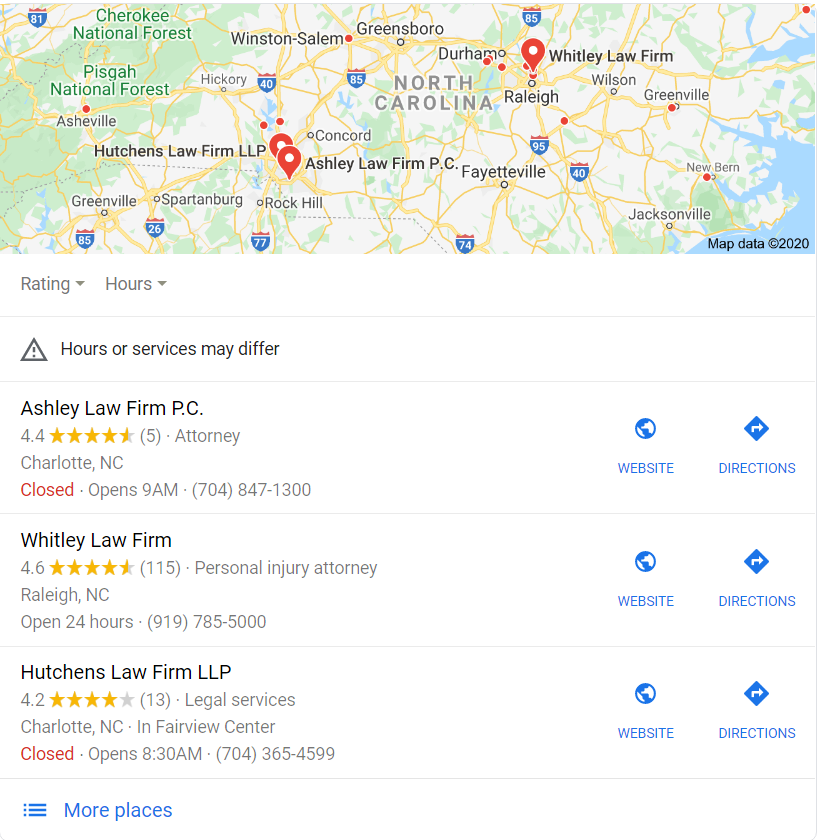 Keep in mind that your chances of showing up in the local pack depend on different factors, such as GMB reviews.
However, for now, you have to set up, claim, and verify (that you are the business owner) on GMB. Here is a detailed resource by Google that can help with that.
Besides GMB, other major citation/data aggregator platforms include:
Neustar Localeze
Acxiom Business Listing Manager
Infogroup
Yelp
2. Industry or Location-Specific Business Platforms
The next step is to list your business on industry/location-specific online directories.
Depending on your industry and region, you could potentially find several directories.
A quick Google search can help. Just type in "(Your Location) + (Your Business/Industry) + directories."
You can also use the "intitle" search operator (intitle:legal directories). This will only show web pages with titles including "legal directories" in them.
For instance, searching for "North Carolina law firm directories" returns the official website for the NC State Bar as the top result, followed by directories such as FindLaw, the US News rankings, the Cornell University Law School database, and the North Carolina Law Firms network.
Find as many directories as you can where you can create a listing for your business yourself. Again, make sure to use the same/correct NAP.
Use Citation Builder Tools
There are many tools/services that can fast-track and automate your citation building process.
The most popular option is BrightLocal's Citation Builder – an online service that lets you create and manage all of your business listings from one platform.
The platform also submits your listings to different directories and data aggregators on your behalf.
Another similar tool is Whitespark – a free local citation finder that lets you discover new opportunities for building citations and manage your listings.
Additional Backlink Discovery Techniques: Looking Beyond Citations
While citation building plays a key role in local link building, your local link building strategy should also incorporate other tactics.
Here are a few tips to discover new link opportunities:
1. Looking at Competitors
The best place to start your local link hunt is the website of your competitors.
A link building tool, such as Ahrefs, could help.
Going back to our example of law firms in North Carolina, let's see how we can use Ahrefs to discover links.
The "Link Intersect" tool allows you to generate a list of websites that are linking to your competitors but are not linking to you.
Here's how it works:
On Ahrefs, plug in your URL or domain.
Under "Backlink profile" (on the left side of the dashboard), click on "Link intersect."
Copy and paste the URLs/domains of the business websites of your competitors in the top 3 fields, and your own URL at the bottom field, like so:

Click on "Show link opportunities" and voila – you're done.

As you can see in the example above, there are a total of 339 domains that are not linking back to Ward and Smith's website, but are linking to their competitors.
You can download the list of these referring websites and pursue them.
2. Getting Featured on Local Blogs
Local bloggers and influencers may not always provide you with the most top-quality links, but can work wonders for the online visibility of your business.
Using the intitle operator can reveal these opportunities on Google.
Again, if you're a law firm, try "Intitle:Legal blogs" or "Intitle:Law blogs " to find the most relevant results.
You can also throw in a location to further narrow down your results.
Make a list and pursue those websites. Find out if they allow you to submit guest posts.
3. Getting Featured on Industry Magazines/Publisher Websites
Apart from blogs, search for online industry magazines and other publisher websites.
Figure out how you can get yourself featured on their website.
The best way is to contact an author/journalist on one of these websites, and give them something they could use in their piece.
For starters, HARO (Help a Reporter) could help with that.
4. Doing Local Charity
This may cost you a bit, but partnering with local organizations that do charity work can help you earn a good few dozen links from various sources – especially local newspaper websites that have high domain authorities.
Ending Note
With all of that information at your disposal, it's time to buckle down and formally execute your local link building process.
Remember – the key is to start from the basics. In this case, this refers to creating a GMB listing and other directories.
Then, work your way up to other advanced link building tactics.
Slow and steady wins the race.
---
Zach Todd is the creator of Persuaded.io, a local SEO software service. He also writes about local SEO, search engines, and data visualization.